We are "The stroker kit experts." We carry more stroker kits specifically for the Big Block Mopar engine than most other shops have for big and small block Chevys combined!! Whether you choose the Mustang munching 500 cubic inch kit, or the Camaro crunching 543, you'll find no other shop even comes close to offering such a large choice of in-stock kits, including such high quality components, at an incredibly reasonable price! We've been selling our kits for over a decade, we have many thousands of them running in all 50 states, and over 15 countries around the world, rocketing doorslammers as fast as low 8 second quarter mile times, and dragsters deep into the mid 6's!
Listed on this page, you'll find an unbelievable DOZENS and DOZENS of different stroker kits available, ALL for the big block Mopar engine! Every single one of 'em normally kept on the shelf and ready to ship, usually within 24 hours.
And, we are offering ANY of our American made Platinum Series Fully Forged lightweight pistons (four digit part numbers) in Flattop, Dished, or even Domed included as standard in our kits for the standard price! Choose any bore size, any compression ratio, any stroke crank, any length rods listed on this page and we'll include 'em in the kit for the standard price. You want it, you got it! No hidden upgrades, no "special order" extra charges, no BS and no sales talk. You won't find anything listed on our entire website as an unspecified "additional fee," or some other vague excuse for an answer. It's all spelled out below in detail. Want to shop around and do your research? No problem. Take your time. When you've got great quality parts at a very competitive price, you don't have to resort to high pressure sales. You'll end up calling us back in the end, and we know it! Check out our Customer's Rides page or talk to our customers running ten, nine, eight and as fast as MID SIX SECOND quarter mile times with same parts we supply in every stroker kit! You can't argue with these types of quarter mile times, and these types of RESULTS!
We race Mopars ourselves, and we got tired of our pocketbook being dragged across the coals every time we needed an engine part that was made to fit a Mopar instead of a Chevy. So now we're doing something about it!
If you're ready to start making some SERIOUS POWER right away, we normally stock over 300 stroker kits!! That's right. No other shop even comes close to the quality, selection and value that we offer. Being the world's first, largest and ONLY dedicated Big Block Mopar warehouse has its advantages! Everything is normally IN STOCK AND READY TO SHIP, usually within 24 hours!! And the best part? Nothing will increase the value of your car like a monster 500++ cubic inch big block!! (...If nothing else, it's the best way to justify it to the wife!)
---
In EVERY kit, we include everything you need, crank, rods, pistons, pins, locks, Clevite main bearings, Clevite rod bearings, Total Seal file fit moly rings, AND precision final balanced, all for just $2299!!.
---
We make sure that EVERY specific piston and EVERY specific rod used in our balance jobs are weighed to verify they are within our spec. We then figure your exact bobweight and balance the crankshaft to that exact bobweight. We do not just use what's "written on the box" or any "estimated" weights for any part of the balancing operation. Check out our BALANCING SHOP!
---
OK, now, let's get down to business... Our world famous stroker kits come standard with the following parts:
THE CRANK:
BRAND NEW FORGED 4340 steel PLATINUM SERIES crankshaft. Non twist forging. Induction hardened, CNC Machined. Plasma gas nitrated. Standard size rod and main journals. Rated to 1000+ horsepower. Includes lots of other features you won't get with the other guys such as profiled (rounded) counterweights, .125" full radiused journals and more. For some really in-depth pictures and manufacturing specs, check out our crankshafts page.
THE RODS:

Super light and strong PLATINUM SERIES rods. Made from aircraft quality 4340 Steel, fully SAE certified. Heat treated, X-rayed, and shot peened, and finished on American made SUNNEN equipment for super tight tolerances. Setup for full floating smaller and lighter .990" pins. All our rods come with nothing but insanely strong American Made ARP 7/16" bolts. They include lots of other features you won't get with the other guys such as the correct big end width (for proper side clearance) reduced shoulder profile for easier stroker clearancing, and more. For more detailed pictures, specs, bolt information, etc, check out our connecting rods page. All rods come standard with ARP 8740 bolts (which ARP rates up to 850 horsepower,) or you can upgrade to ARP 2000 bolts, which they rate up to 1200 horsepower.
THE PISTONS: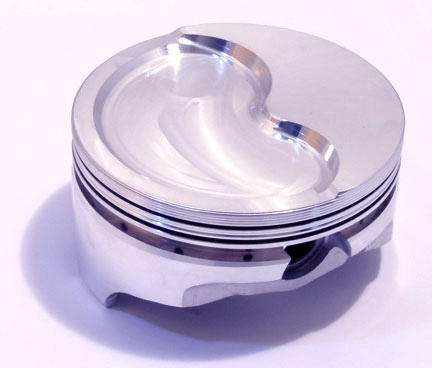 Our premium 100% forged Platinum Series pistons are made from the same aerospace quality 2618 T-6 aluminum billet as the high dollar name brands. They have incredible strength without sacrificing light weight. Our factory is fully ISO9002 and QS9000 registered, to ensure the highest standards of quality, and they're American Made from start to finish! Forged in America, 100% CNC machined in America. They feature drilled oil returns, tight quench, reinforcement ribs on the underside of the forgings, diamond finished skirts to tolerances of +/-.00025" (two and a half ten-thousandths of an inch!), and the other high-end features you'd expect from a 100% American made lightweight forged piston, except the high price. All pistons use 1/16, 1/16, 3/16 ring pack for less frictional loss, and weight saving .990 pins, full floating and held securely in place with included SpiroLox. All include matching chrome moly heat treated, centerless ground pins. Many applications are available in Flattop, Dish or Dome for nearly any compression ratio, and at most all common bore sizes.
Check out our NEW Stroker Kit frequently asked questions page. This will answer 99% of your questions about our kits and parts. (click here)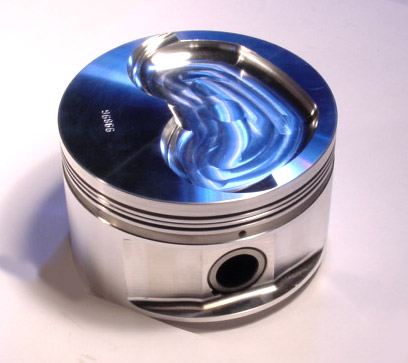 ---
Due to stroker kit orders being a bit more complex than the average order, we don't offer our stroker kits though our automated web store. We want to be able to talk to you in person and make sure you are getting the correct size kit for your application, as well as verify your block bore size, rod bolt choice, etc. We've sold thousands and thousands of Big Block Mopar stroker kits, and planning your build with a tech before you start buying things could save you huge hassles later on. So give us a call and one of our stroker kit experts will be more than happy to help you out. To help you get a headstart on what's available, we list all our different kits and options below: